Lessons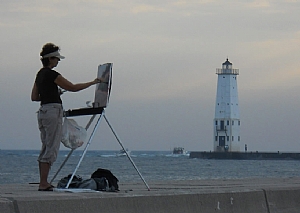 Ellie Harold
Painting in Frankfort, MI

Dear Painting Enthusiast,
I have recently opened my new studio on the corner of 4th St. and Forest Avenue in Frankfort, MI. where I will be showing my work and offering studio and outdoor oil painting lessons.
I am pleased to share my expertise with art adventurers who want to paint in oil. My aim is to provide you with information and support that allows you to have a safe, enjoyable learning experience. I'll share my approach to outdoor painting which features strong design and a limited palette.
I will be holding classes by request and interest. I offer both small group (2-4 participants) and individual painting instruction. If you a beginner or in need of a review, I suggest you sign up for one or more studio sessions before attempting an outdoor workshop. Let me know if you'd like to participate by email eharold@aol.com or by calling 231. 352. 6213. And you're always welcome to drop by my studio at 402 Forest Avenue in Frankfort.
Happy painting!
~ Ellie
Beginner and Intermediate Oil Painting (Studio). Learn or review the basics of mixing colors, designing the canvas, executing an alla prima (wet on wet) painting. Sessions tailored to your needs and experience. Equipment and materials available (easels, canvas, paints, etc ). Wednesdays 2:00 – 4:00 p.m. $50 per session. (Add $10 per session if you require equipment and materials).
Outdoor Painting Workshops. We'll meet in my studio for orientation at 3 p.m. and then go to a local painting site to catch the great afternoon light. Individual or group sessions available. For all levels; some prior experience painting with oils or your medium is necessary. $100 for 3-4 hour session. (Add $15/session for equipment and materials). (Morning sessions also available by request.)